The stunning photo above was sent along to us by a man named Gordon, a resident of Cape Town, South Africa, and one of many witnesses to strange UFO phenomenon that continues to occur there. It was taken during an evening skywatch in search of the mystery aircraft, which have been reported in vast numbers around the vicinity of Cape Town over the last several months.
"I live in Cape Town," Gordon told us," and those lights (in the photo) are the city."
"Lately there have been a lot of mass sightings of UFOs in the area, especially around the city," Gordon told us. There have also been a few instances where photos and video have been produced (see below). However, none have been conclusive in what they appear to represent.
"The footage and photographs have not been convincing," Gordon said. "Its always at an bad time you spot one. Just the other day, and obviously when I was not armed with any photographic equipment, we saw one flying across the sky." The object he and his companions observe was a black object, and had a tube-like appearance.
Have you seen a strange UFO over Cape Town, or anyplace else? If so, we want to hear about it! Email us about your encounter by clicking here.
"Its crazy the amount of reports you get here," Gordon told us. When asked about South Africa's military presence, he said that this did not seem to be as likely an explanation for many of the objects being observed.
"South Africa is not known for its military," he said, commenting on the sparse military presence in general, "let alone any spectacular aircraft… the most you will see is helicopters, but they are obvious."
According to Gordon, these odd UFOs tend to show up in numbers, and there are many witnesses who will see the objects. "There are times when you see many at night, all together, and you will come to work and people are talking about it (the next day)." Gordon and his associates are spending their evenings high along the mountain ridges above Cape Town, hoping to capture decent photographs of some of these mystery craft.
Earlier this year, the two images below were sent along to us by Franz Z, a South African listener. The first purports to show a UFO he and several others witnessed near Cape Town, South Africa, on Christmas night, 2012: Below are sketches of how the craft actually appeared as it flew overhead that evening: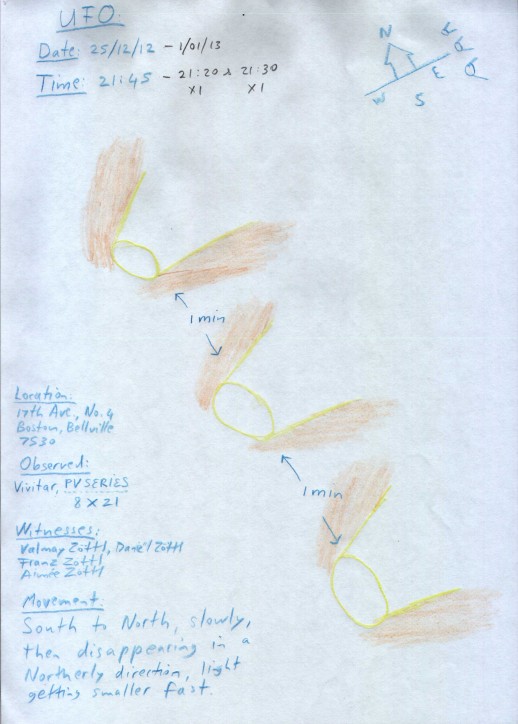 UFO image and drawing courtesy of Franz Z., Cape Town, South Africa.