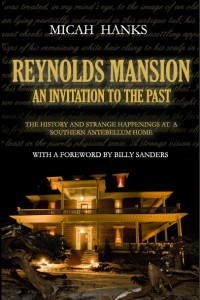 As a writer and researcher, I have a long history of involvement with study of the supernatural. Many of my earliest experiences with pursuit of the unexplained involved investigations of alleged haunted sites, and thus, even today when it comes to those things which deal with ghostly entities and the presence of paranormal phenomena, I am typically eager to cast a careful, though very inquisitive eye toward those subjects.
Listeners of my weekly program, The Gralien Report, already know about a new book I've just released, called Reynolds Mansion: An Invitation to the Past, which documents my own real life investigation of one of the Southeast's most haunted homes, with the help of a number of other associates familiar to The Gralien Report. Not only does this book deal with my team's research into the history of strange phenomenon at the Reynolds Mansion, a Southern antebellum home located near Asheville, North Carolina, but it also delves heavily into my own philosophy pertaining to strange phenomena, the physics of space-time, and a host of other subjects, as they pertain to understanding what, precisely, is taking place when a house is said to be "haunted by ghosts."
Thus, I'm proud to announce that I'm making this exciting new book available to my readers for purchase prior to its release in stores and on Amazon.com. That's right: you can now purchase copies of my new book on the ghosts of Reynolds Mansion in advance, simply by clicking here.
I'm very excited about this new release, and it's one of two fine books being brought to you by The Gralien Report this year, along with my very first New Page Books release, The UFO Singularity, which will be available in stores in time for the Christmas season. You don't want to miss this exciting story of ghostly hauntings and strange phenomenon… as told from the ever-so-slightly-skeptical viewpoint of everyone's favorite southern radio host and cave-dweller. Get your copy today!